Welcome to Cedarwood Elementary
District LCAP Meetings
Calling all parents, students, staff and community members: to serve our students in the most beneficial and effective way possible, PUSD needs your help!
In order to help us achieve our goal of creating college- and career-ready students, the state of California uses a funding formula, the
Local Control Funding Formula (LCFF)
to determine the amount of money PUSD will be given toward helping us meet the needs and improve the performance of our students.
We must develop and review a plan, called our Local Control Accountability Plan (LCAP) to determine how to use this money most effectively. This is where you come in: to create and review this plan annually, we need your assistance. Please participate in any of our six public meetings to give us your input so that, as a community, we will serve our students in the most effective way possible.
Tuesday, October 13th at 5:00 PM at Paradise Intermediate School, 5657 Recreation Dr.
Tuesday, October 13th at 6:15 PM at Paradise Elementary School, 588 Pearson Rd.
Thursday, October 15th at 5:00 PM at the Paradise High School Library, 5911 Maxwell Dr.
Friday, October 23rd at 4:00 PM at Pine Ridge School, 13878 Compton Dr.
Tuesday, October 27th at 5:00 PM at Cedarwood Elementary School, 6400 Columbine Rd.
Thursday, October 29th at 6:00 PM at Ponderosa Elementary School, 6593 Pentz Rd.
California Distinguished School
Title I Academic Achievement School
Mary Rose Monney, Principal

Home of the Cedarwood Cubs
6400 Columbine Road -- Magalia, CA, 95954 -- 873-3785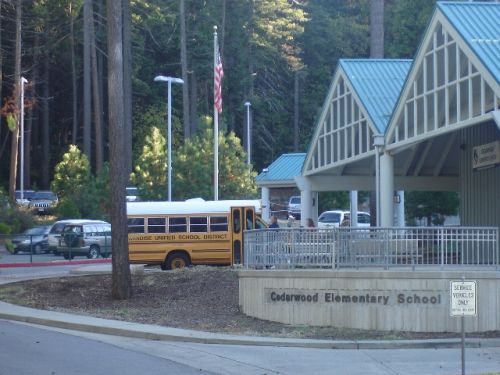 Vision For Cedarwood
Every child at Cedarwood Elementary will have the opportunity
to achieve his/her potential as a learner and as a person!
At Cedarwood, all staff members believe every child is capable of learning no matter what the circumstances.
We take children from where they are to where they need to be.
We will hold high expectations for ourselves and for our students.
Instead of labeling students, we will give them the support they need in the classroom and Student Support Center through a blended service model.
If our practices do not work, we will change them. (Our goal is to foster student achievement and find ways to help students succeed.)